Welcome to the Milk River Watershed Council Canada
We have chosen to archive the valuable information on this domain and provide a gateway to the latest information. To view the latest from Milk River Watershed Council Canada click here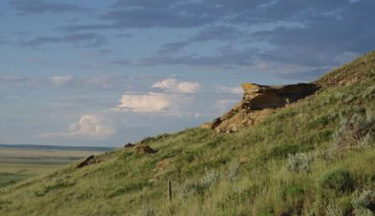 The Milk River watershed is a unique watershed located in the most southern part of Alberta. It is unique, known not just for its dry climate, extraordinary landscapes and diverse plant and wildlife communities but also for the direction in which the Milk River flows. The Milk River is the only watershed in Alberta that drains south to the Gulf of Mexico. Alberta shares the Milk River watershed with the province of Saskatchewan and the State of Montana, U.S.A.
Water shortages are not uncommon in the Milk River watershed. As the problem of water scarcity continues to grow, proper water and watershed management is critical. The Milk River Watershed Council Canada is committed to working with government and non-government agencies, other non-profit organizations, industry and Milk River watershed residents to effectively manage watershed resources.
Anyone living and/or working in the Milk River watershed is invited to participate. Please browse through our website and see how you can get involved in the many exciting activities of the MRWCC!
Thank you for making the MRWCC 8th Annual General Meeting (AGM) a success!
The Milk River Watershed Council Canada AGM was held on April 11, 2021 at the Milk River Civic Centre. The meeting presented a forum for participants to learn more about what the MRWCC is doing to support management of water, land and biodiversity in the Milk River watershed. More information about the meeting is available here.
We would like to thank everyone who participated and sponsored the AGM. Your continued support is invaluable to the operation of the MRWCC. View list of sponsors.
2013 Canoe Trip

The MRWCC will be hosting the Annual Canoe Trip June 22, 2021 (weather Permiting). This year the trip is scheduled to take place on the eastern stem of the river between HWY 880 bridge to Pinhorn Ranch.
The agenda for this Canoe Trip will be available shortly.
For more information please contact us at 403-647-3808 or send us an email at [email protected]
Hope you can join us!!
2013 Southern Alberta Youth Range Days - July 16 to 18
The Southern Alberta Youth Range Days is an interactive event for youth, and families, interested in learning about a variety of rangeland, watershed, wildlife, and other topics related to natural resource management. Youth from all backgrounds including farm and ranch, acreage or town, are welcome to attend. This year's camp will be held in the Cypress Hills, which is located in the heart of Canadian cattle country.
Click here to register and for more information
Some businesses we know